How can we make a meaningful impact in our communities? ALDO Shoes thinks that creating a better world starts with the confidence to step into what we believe in – something it calls "stepping into love." In this series, we tap cool, boundary-pushing women for their takes on finding the courage to create real change.
When it comes to creating a better world, real change makers never waver in their beliefs – and that's certainly true for Shannae Ingleton Smith, the Toronto-based co-founder of an influencer agency. Making a real difference in your community, she says, starts with being unapologetically you. "When you stand boldly in who you are, amazing things can happen," she says. Here, Shannae shares her sage advice on how to become a change maker and why trusting your intuition means you'll always be your most authentic self.
When are you most confident?
"Some might call it superficial, but I feel like I'm most confident when I look my best – when my hair and nails are done and I'm wearing an outfit that fits me perfectly. There's something about all the small details coming together that makes me feel unstoppable."
What motivates you to step into love and take action in the world?
"As a Black woman, I'm most motivated by elevating and amplifying the voices of people who look like me. I know that it is my responsibility and privilege, really, to use my platform for good – to spread a little more love, hope and inspiration in the world."
What does being authentic mean to you?
"Listening to your intuition. Sometimes your intuition is hard to hear, but if you're still enough and let yourself be guided by what it's telling you, you'll never be steered wrong."
What qualities does someone need to become a change maker in their community?
"A change maker is somebody who is not afraid to go against the grain – they don't fall victim to groupthink. Change makers think critically and individually, and they do so with confidence and bravery."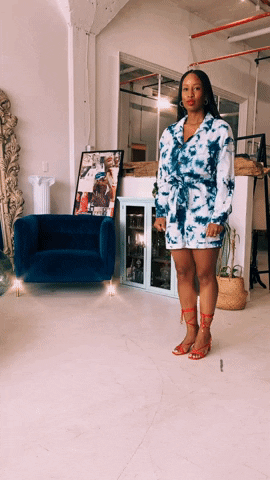 Check out ALDO's Step Into Love video and share how you step into love using #stepintolove on social media.
Newsletter
For the latest in fashion, beauty and culture, sign up to receive ELLE's daily newsletter.